Are you yearning to give your house a fresh look, but don't want to spend a fortune on new siding or major façade work? You'll be surprised how much you can do with just a few simple changes to the front door.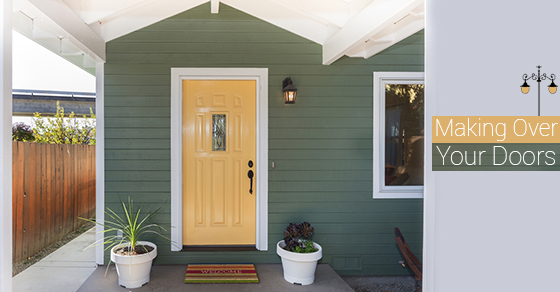 The best part? It won't take a large budget to do it.
Before trying to add a new flare to your existing door, consider the strongest change you can make: an entirely new entryway door. Not only will you save yourself the effort in revamping your existing door, but you'll get to choose from a variety of new styles, materials, and will even be able to increase your home's overall security. Doors made today are generally stronger and more durable than they were even a decade ago, meaning your family and belongings will stay safe while improving your home's style.
However, if you're looking to simply spruce up what you already have, check out our tips below!
First of all, think paint! It's the best major-impact-little-cost makeover tool. House colors are usually neutral and indistinct, so a bold colour on the door will add some personality. Look for colour ideas from the house's surroundings, like the colours of flowers or flowering shrubs, or simply paint it with a coat that matches your home's interior decor. If your house's façade does have a hue, choose a colour for your door that is complementary to it.

To paint the door, you will need to first buff the door with sandpaper (220-grit), and prime it before you apply the colour. In addition to giving your house a visually interesting punch, new paint will also help maintain the condition of the door. A semi- or high-gloss paint prevents moisture from getting in and forming mildew.

Another cost-effective way to spruce up the door and one that can easily be a DIY project is adding moldings to the door's surround. Thicker surround moldings will make your door look more substantial and convey a large presence. You can buy polyurethane moldings which are lightweight and easy to install with adhesive and screws.
To enliven the door, add some accessories to the entry area. You can replace your mailbox with a shiny new one and hang a seasonal wreath. Consider swapping your basic knob for a lever handle. If you want a modern look, get a matte finish in pewter or black; if you like the classic look go with a high-shine silver or brass, but in any case it's a good idea to match all the other hardware on the door with what you chose for the handle. Lastly, add an interesting, eye-catching door knocker to finish the look.
To highlight your revamped door, play up the lighting. Sometimes just increasing the watt power of your light bulbs or switching to a frosted bulb that emit a softer light and less glare will do the trick, but you can also consider hanging a lantern to add some special ambiance or change the sconces for ones made out of more distinct material such as unfinished copper or brass.
For more tips and advice on how to create a more inviting entryway, contact the experts at Heritage Home Design today!