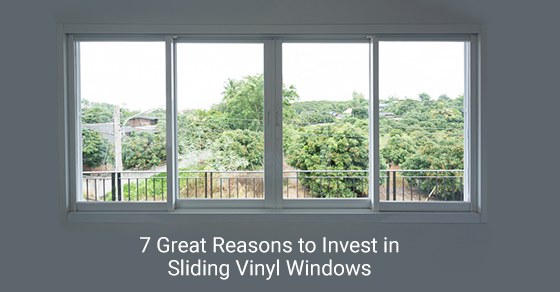 Anyone who's lived in a home with poor windows knows the consequences. The wind gets in, they look terrible, and opening and closing them is a pain. Windows can have great benefit to the overall look and function of your home, or they can waste money and take down the tone of your otherwise lovely decor. New, high-functioning windows aren't a luxury. They're vital to maintaining your home's aesthetic and ensuring your heating and cooling costs aren't more than they need to be.
Sliding vinyl windows have become very popular in the construction industry and are seeing widespread adoption. They're beautiful, easy to use, reliable and customizable. But are they worth the investment? Here are seven factors to consider that can help you decide if sliding vinyl windows are the solution to your window woes.
Longevity

When considering a home investment, how long the fixture will last has great bearing on its cost versus-use-analysis. It may be worthwhile to spend a little extra on something that will last longer, keep up its looks and provide reliable function. Wood and aluminum windows will need to be replaced long before vinyl windows. Every time your windows need replacing it's another round of costs, for the windows as well as for their installation. If you need to take time off work to let installers enter your home this is another cost consideration, this time in lost wages. Longevity of your windows means you'll be faced with the price tag and stress of home repairs less frequently.

Many Size Options

Many window companies provide fully customizable options. Whatever the size of window frame you're looking to fill, a window can be crafted to your exact specified measurements. You are also able to choose the style, and accents, letting you match your window the rest of your home's design. This touch provides continuity in your home's look and shows you have great attention to detail as a homeowner.

The wide variety of size options available, whether you choose to go the full custom route or not, makes shopping that much easier. There is guaranteed to be a window to suit your needs. No need for you to go hunting down the right size in window and home repair stores.

UV Protected

UV does more than give you a sunburn, it wears down your windows over time. Being manufactured from PVC-vinyl gives these windows protection from UV rays, adding to their longevity. Their white trim cuts down on heat absorption from the sun, preventing breakdown and keeping your home cool. White goes with most home designs and is a flattering touch to windows.

Easy cleaning

The brand new look of your vinyl windows maintains over time, needing only a soap and water wash. Wood window frames flake and peel, requiring a re-paint every few years. Better hope the paint store still carries your exact shade of green. Vinyl, on the other hand, never needs painting and can be easily inspected for damage or flaws. Simply or tilt the window in and out to see how it's moving, where there may be any gaps or stickiness and whether any minor repairs are necessary. Cleaning and maintenance of vinyl windows is so easy it doesn't even feel like a chore.

Resistant to Damage

The outdoor elements can do a lot of damage to our windows, especially if you live in a climate where snow, hail, and rain pelt your home. Vinyl doors stand up well to these affronts, thanks to their special treatments added at the time of manufacturing. They barely scratch at all.

Vinyl windows also do not peel, crack or chip, unlike traditional wood-framed windows. You will save time and money on their maintenance, and they will be consistently beautiful and free from obvious damage.

Environmental Benefits

The clear-cutting of forests for wood is a tremendous threat to our ecology. Synthetic materials can actually be more eco-friendly than traditional wood, requiring fewer resources to create and care for. Vinyl windows don't necessitate the cutting of trees and are made in an economical, environmentally friendly way. They don't need to replaced frequently either, resulting in less waste to dispose of.

Versatile Look

Vinyl windows are beautiful in any home design. Their bright, open and airy look make your home seem large and modern. Their white PVC trim complements most home designs, adding a touch of lightness and structure. Wood framed windows do little to accent the actual decor of your home, serving as a mostly functional material. Vinyl windows wake up the look of your home, creating an inviting and luxurious effect.
If you've been considering investing in sliding vinyl windows for your home, know that it is an investment that will repay itself in no time. You'll spend less time maintaining your windows, and they'll require replacing far fewer times than traditional windows. Sliding vinyl windows are easy to use, are great at sealing your climate control in your house instead of letting it out, and are a beautiful touch to your whole home's look. There are so many reasons to invest in sliding vinyl windows, the question is, why haven't you already?
For more information, call Heritage Homes at (416) 578-4264 or contact us here.