When it comes to interior design, it's often said that one man's trash is another man's treasure. However when it comes to windows, your own trash can often be found to be a treasure.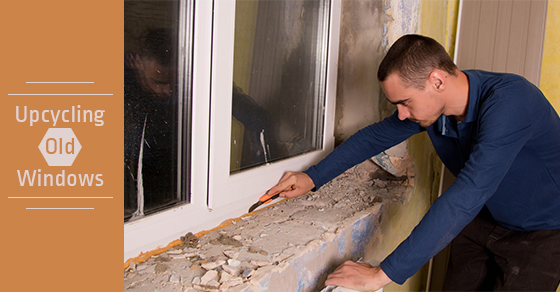 Whether you're renovating your home for energy purposes or are upgrading your room's style, your old windows shouldn't be tossed along with the rest of your renovation debris. Instead, dig into your creative side and upcycle your windows to create a new decorative addition for your home!
We're looking at the four best ways to repurpose old windows.
Create an erasable white board
There's a scene in A Beautiful Mind where the famed John Nash is shown to spend his most creative hours scribbling away not on paper, but his dorm room window. An old window with the glass intact is actually a reusable surface for writing that has strong stylistic and usability benefits when compared to a chalk board.
Paint the window frame to compliment the prominent colours in your kitchen or child's room. The sleek look will add an elegant touch to any room design, and the functionality will prove to be useful as soon as its hung up.
Separating your space
If you live in a loft or have a room that could be split into two, you can use your windows in the same way you would French doors to section the space off, without causing the area to look smaller. Some assembly is required and you'll need quite a few windows to get the job done, but that doesn't mean they all have to match: A mix of windows and frame colours can create a dramatic statement in any space.
Use it as a large picture frame
An old window made of wood will give the frame a rustic appeal, while synthetic materials have a clean finish. You can fill the frame with a large painting, a collage of photos, or to put up some of your favourite prints without having to wallpaper your room. Place it above your bed for an interesting take on a headboard or simply to make a boring wall more inviting.
DIY greenhouse
Glass can be expensive so when you have some to spare, be sure to make use of it. If you have even a little bit of outdoor space, you can start a miniature garden for some of your favourite flowers and vegetables.
Oregano, thyme, dill, and basil are easy to grow and are great for garnishing your dishes. You can use your window frames to build out the sides to house your greenhouse. To make it easier on your back, stick with smaller windows that will create shallow walls so you don't have to stoop over too while gardening.
There are endless ways to upcycle your windows after you've upgraded to new ones. For more information, contact our team today!