Home decorating styles are always changing, but keeping your home looking fresh and updated shouldn't have to be difficult. There are simple ways to brighten up the look of your home without having to invest a fortune.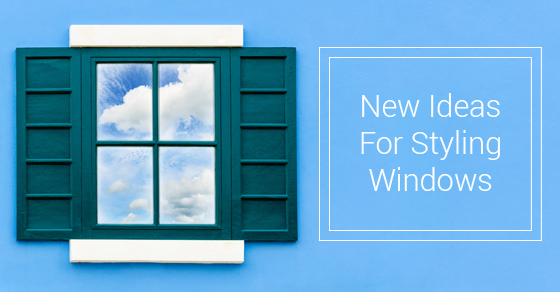 Styling your windows is one of the easiest ways to update the look and feel of your home. Knowing the latest trends for 2016 will give you some great ideas to give your windows better functionality and aesthetic results.
Using Tones
One of the most popular trends seen in home design is the use of deep and bright colours for your window accessories. Jewel tones such as blue and red provide your home with a sense of luxury and can help you create a strong, bold ambiance in your home. Turquoise, on the other hand, can be used to create a unique look that brightens up an otherwise small or colorless space.
Lately, more and more homeowners have been showing interest in fabrics with a metallic look. These fabrics give the appearance of materials such as brushed nickel, silver, and platinum while complimenting a wide range of colour tones.
Designers are using bright colours on windows, and this trend will likely grow in 2016. Patterns such as flowers, stripes, and geometric shapes add another visual layer that create new and interesting textures.
Going Natural
Another style trend for 2016 involves the use of natural materials such as wood and bamboo. These organic materials appeal to earth-friendly homeowners who also enjoy the feeling of nature in their surroundings.
Woven shades and blinds can be combined with natural earth-toned drapes to create a soft and light look for any room in your home. These natural materials are slowly replacing the synthetic blinds and shutters that homeowners have typically used.
Functional Designs
The window styles for 2016 will focus on improved functionality for your home.
The use of accessories to provide more privacy while optimizing the natural light in your home is increasing. Using bottom-up blinds makes it easy to limit the visibility into your home without taking away from the amount of light coming into your windows; these are especially useful for homes that are in densely populated areas.
Additionally, designers are seeing an increase in the use of sheer fabrics and panels. These can easily limit visibility without taking away the natural lighting. Fabric manufacturers have a wide range of styles and colours that can be combined to create unique patterns for your home.
These are just some of the most popular new looks for home windows! Knowing how to style your window in 2016 will keep your home looking modern while enhancing the comfort for you and your family.