The amount of natural light in your room affects more than just your electricity bills. Those rays filled with vitamin D warm you up and ease the strain on your eyes, brighten up the room to bring out its beauty, and most importantly, affect your mood so you feel positive. Increasing natural light in your home will make you feel happier, more energetic, and more alive.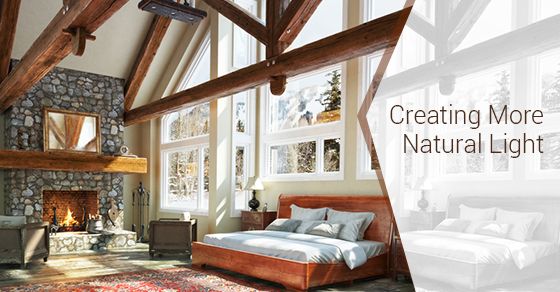 Your doors and windows create openings on your walls that let in natural light. Here are a few ideas to maximise on these openings:
Trim trees and bushes

The first step should be ensuring that natural light can actually access your home. Although some people prefer to keep the trees close to their windows for privacy, they also block a lot of sunlight from getting into your rooms. Trim trees particularly on the southern side of your house, because they don't provide much shade during summer when the sun is high, and they block solar warmth during winter.

Add windows

There are many factors that can make your rooms dark, from low ceilings to too-few windows to deep eaves. If you don't mind breaking down the living room walls with a southern exposure, consider adding some double-hung windows on each side of your sliding door for more lighting. You can remodel all your rooms facing south by simply expanding the existing windows. Great places to consider for extra windows include kitchens, stairwells, and landings.

Add glass doors

If you find that your house entry is dim and dark, like for north facing homes, consider installing a solid wood, pane glass exterior door. For privacy while letting light in, there are many different styles, such as tinted, frosted, reeded, or etched glass. Sliding glass doors can really open up your room with light, especially if you have a nice scenery, deck, patio, or yard to look out on.

Inside your home, consider using frosted glass, clear glass, or mirrored interior doors to separate different areas while letting light in. For instance, you could install French doors to not only provide soundproofing, but also allow multiple rooms or home areas to share light.

Window treatments

Depending on the window treatments used, they can absorb a lot of natural light. If you have dark, heavy curtains, replacing them with light-coloured, lightweight fabrics will instantly let in more light and transform your rooms. At the same time, pull shades up and curtains back during the day, and rearrange any furniture pieces that may block window light.

Installing the right doors and windows, such as Bi-fold patio doors, Bi-fold windows, or Lift and Slide patio doors, or installing huge custom windows is essential to satisfy your aesthetic and physical needs for natural lighting, while making your home feel larger and more spacious.