Vinyl windows are very popular among homeowners. However, it is important to understand that not all vinyl windows are created equal. Knowing what to look for when choosing vinyl windows will ensure that you are selecting the most high-quality vinyl that will not be prone to problems in the years to come.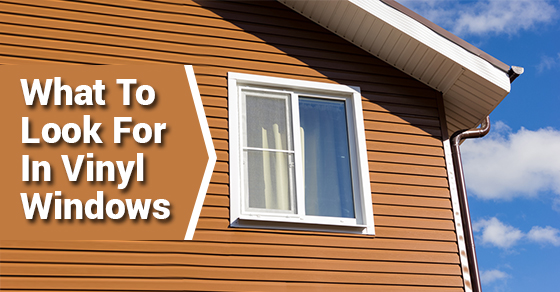 Vinyl Thickness

Vinyl that is thick is a good indicator of a higher-quality product. Examine the frames of the windows to see if the vinyl is both dense and heavy.

Corners That Are Fused

It is important to examine the corners to see if they are fused together. Avoid corners that have been screwed together or welded. If they are fused together, they would have been done so via a technology called fusion-welding, which ensures that windows will not leak over time like corners that are screwed or welded will.

Inert Gas and Warm-Edge Spacer Bars Between Double Panes

A good quality window that will provide a good level of insulation and therefore minimize heat loss will have inert gas and warm-edge spacer bars.

Excellent Ratings Per the NFRC or Energy Star Label

These labels, either from the National Fenestration Ratings Council or Energy Star, provides an indicator of the energy quality of windows, doors and skylights. They measure one or all of these four different elements. Here is what to look for (remember to always compare vinyl to vinyl and not vinyl to wood):

U-Factor/U-Value. This is an indicator of heat loss and therefore provides information as to how well a window insulates. Look for a low number.
Solar Heat Gain Coefficient (SHGC). This measures how much energy from the sun passes through a window. It is a number anywhere between 0 and 1. A lower number is better.
Visible Light Transmittance. This will give you an idea of how much light manages to get through a window. It is a number between 0 and 1. A higher number indicates that more sunlight gets through the window.
Condensation Resistance. This measures how well a window prevents condensation. It is a number between 0 and 100. A higher number means that the window is at better at preventing condensation.

Certified by Energy Star

This government-backed label ensures that windows are energy-efficient. It takes into consideration both the U-Value and the Solar Heat Gain Coefficient (SHGC).

A Great Warranty

Ask questions such as what kind of warranty it is, the length of time the warranty covers and whether company liabilities decrease over time. Also ask if you can you transfer the warranty in the event that you sell your home.

Higher Price Point

When it comes to vinyl windows, a higher price point generally means a higher quality window. Remember that there is a reason for these price differences.
If you are considering replacing your windows, contact our team of professionals at Heritage Home Design for quality window installation.