How many windows a bedroom have will be different for each homeowner as it comes down to personal preferences. However, for a room to be considered a bedroom, it must have at least one window. The addition of more windows will depend on the homeowner.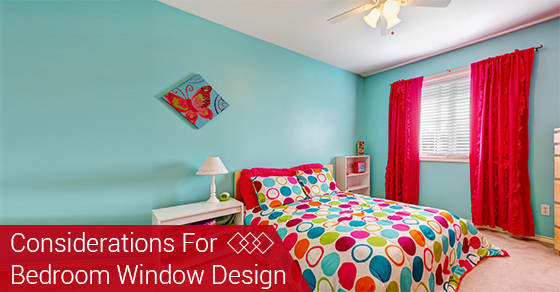 Here are some things to consider when making the decision as to how many windows your bedroom should have:
Consider the View.

Take a walk outside of your property and determine where the best view is. This should be a key factor in determining where and how many windows a bedroom should have. If you are lucky to have multiple stunning views, consider putting in multiple windows. Alternatively, you might also consider putting in one floor-to-ceiling window.

Similarly, if one side of your home has a less than stellar view, or has a view that could compromise your privacy, it might be best to leave that particular window out altogether.

Consider Your Home's Exterior.

It is important to take into consideration how the placement of windows will look from the outside. You might find that you have to forgo an extra window because it upsets the balance of your home's exterior.

Consider Furniture Placement.

To best judge many windows a bedroom should have, you'll need to take into consideration the placement of furniture. For example, it's more likely that you'll want a window across the room from where your bed will be placed, instead of directly above your headboard.

Do you Prefer Natural Sunlight?

If you prefer a lot of sunlight to enter your room, this might lead to you wanting more windows in your bedroom than other people. A benefit of a lot of windows, especially if you invest in quality windows, is the energy savings.

Consider Your Lifestyle.

If you prefer to sleep in late, consider adding less windows (one of which should be placed on the north wall).

Consider your Neighbourhood.

If your bedroom is facing the street, it might be best to minimize the windows in your bedroom so as to reduce the street sounds that enter your bedroom, especially if you are a light sleeper. If this is not the case, you might be lucky enough to have more bedroom windows than other people.

Consider Future Homebuyers.

Although some may be tempted to add fewer windows to a bedroom to maximize privacy, for example, this might not appeal to future homebuyers who might prefer to have natural sunlight in their bedroom. Moreover, a lack of windows can also decrease home value. It is important to keep this in mind and to find the balance.
There are a lot of elements to consider when choosing how many windows to add your bedroom. Consider contacting our team of professionals at Heritage Home Design to help you make this decision and for quality window installation!