Garage doors play an important role in our homes. Inside of our garages, for many, are valuable possessions, including cars. Before you let any technician install your garage door, here are things you need to check.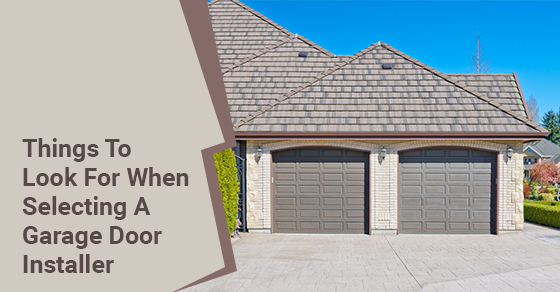 Are they reputable?
The reputation of a garage door specialist is important. Ask around, look online and see what other people are saying about them. You should also visit their website for customer testimonials and see if you know anyone who's left a comment. Contact these people directly and ask for their honest opinion.
Where are they located?
When it comes to garage door dealers, you want someone who can get to your home easily and quickly. This isn't to say that you can't use the services of a company that's an hour away, but stick to local businesses if possible. You should also visit their business in person for product demonstrations and to gage their customer service. First impressions are everything and if you're treated poorly by a garage door specialist you should go with another company.
Are they accredited?
The Better Business Bureau (BBB) is an organization that holds companies to a higher standard. Look for garage door dealers that are members of a professional organization like the BBB, so you know they are adhering to industry standards.
How long have they been in business?
Experience is everything when it comes to garage door installation. Make sure you choose a company that has a history in the industry and has been around for a while.
What is their guarantee?
Do they offer a warranty? Do they provide a guarantee for installations or repairs? Also, what is their liability insurance policy? These are questions you need to ask before settling on a garage door company.
What is their emergency service like?
If a company doesn't provide a 24/7 emergency service phone number where you can speak to someone about a garage door problem, you should think twice about using their services. You may never need to use their emergency line, but it's nice to know that the support is there if you do need it.
Do they offer free quotes?
This isn't a necessity, but free quotes always help sweeten the pot when it comes to garage door services.
If you follow the above points, you'll have no trouble finding a reputable, highly-recommended garage door installer—all a part of keeping your belongings safe and secure.