Decorating a small space can be tricky. You want to maximize the space, while minimizing clutter. Before you move forward with decorating your small space, learn about these common mistakes so you can watch out for them.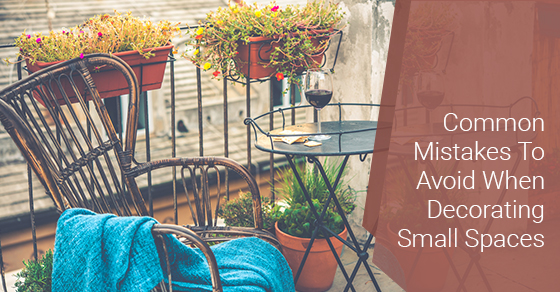 The big cram
Small spaces are easy to fill up. You need to avoid cramming the space with too much stuff, otherwise you'll create a claustrophobic-feeling area that no one will want to be in. If you don't have the benefit of high ceilings, don't put a tall cabinet in the space. Also, stay away from pieces that draw the eye towards the floor of the room. Stick with items that keep the focus or draw the eye upward, to create the illusion of more space. Don't stack either: just because the space is small doesn't mean you have to stack items on top of each other. The less you cram in the space, the better.
The disproportionate furniture brigade
Smaller rooms don't necessarily call for smaller pieces of furniture, but everything needs to be proportionate. People often think that smaller rooms require tiny furniture. This isn't always the case, because—for example—two tiny loveseats may look out of place next to a regular-sized oval coffee table, whereas a sectional that stretches from wall-to-wall could actually appear more fitting in the space. Ensure that your furniture is proportionate to the other furniture and not the room itself.
The break-up
When you have a small space, it's best to stay away from room dividers, because they make the room look compartmentalized. Avoid breaking up the space in a small room and, instead, give it a chance to breathe. Small spaces that are divided up tend to look even smaller. If you do need to break up the space, divide it up geometrically. This means actually getting out a measuring tape and figuring out exact halves and quarters.
The safe play
Many people think that smaller spaces need boring white walls. You don't have to play it safe with the walls in your small space. Think outside the box and have an accent wall for added drama. You can even paint the whole room a fun colour or use a bold wallpaper. If you're not ready to get crazy, choose an accent piece that stands out.
Avoid creating a drab area with too much furniture by avoiding the aforementioned design mistakes. Instead, create a space where people want to be, even if it is a small space you're working with.